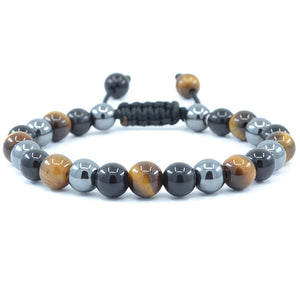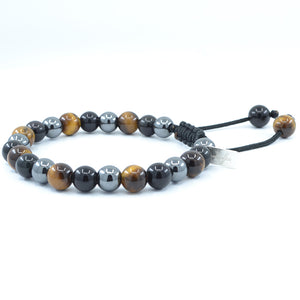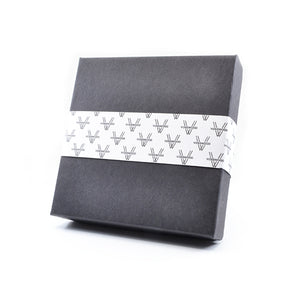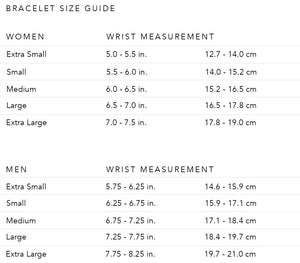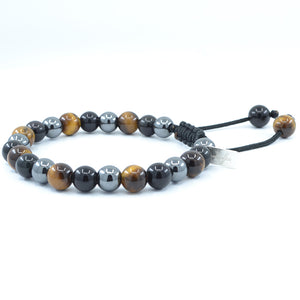 Tiger's Eye, Obsidian, Hematite
Very sturdy, well-made design
Handmade in Sacramento, CA
8mm
Signature sterling silver dog tag
*Choose three initials to be stamped, write your initials in the special instructions box upon checkout.
*Adjustable length - write your size in the special instruction box upon checkout.
*If there are no notes of your size and initials I will default to 16cm and no initials. Thank you!
Tiger's Eye: Is a protective stone that was traditionally carried as a talisman against ill wishing and curses. It shows the correct use of power and brings out integrity. It assists in accomplishing goals. Psychologically, Tiger's Eye heals issues of self-worth, self-criticism, and blocked creativity. It aids in recognizing one's talents and abilities, and conversely, faults that need to be overcome.
Obsidian: Is a strongly protective stone, forming a shield against negativity. It brings clarity to the mind and clears confusion and constricting beliefs. This stone stimulates growth on all levels. It urges exploration of the unknown, opening new horizons.
Hematite: Dissolves negativity and prevents negative energies from entering the aura. It is said to be beneficial for legal situations. Mentally, Hematite stimulates concentration and focus. It enhances memory and original thought. Useful stone for the study of mathematics and technical subjects.